Program Description
SESAMI Program is academically oriented, and it will advance the frontiers of knowledge and practice in the fields of strategic entrepreneurship and sustainability alliance management founding on a thorough understanding of a wide range of management disciplines.
Master's program:
For the academic year of 2017 on, the SESAMI Master's program starts in October, and can be completed in one and a half years (i.e., in March in the year after the next). During the first 12 months of the program (i.e., two semesters from October 1 to March 30 and from April 1 to September 30), a series of intensive courses are taught all in English by professors of Kobe University and of those affiliated with universities and research organizations overseas. In principle, each student must take all the courses offered in the first 12 months. Each one credit course corresponds to 12 contact hours, and will be offered in a one-week period. Each two-credit course corresponds to 22.5 contact hours over two weeks.
To provide advanced specialist knowledge and analytical capabilities in strategic entrepreneurship and sustainability alliance management, the program focuses on three areas:
Strategic Entrepreneurship
Sustainability Alliance Management
Strategic Management
During the two semesters from April 1 to September 30 of the first year and from October 1 to March 30 of the second year, students will conduct researches leading to their master's theses, supervised by the professors of Kobe University. Also, the SESAMI Alliance companies offer business practice seminars, introducing the company, business, and current issues in advanced and/or international business practices.
The SESAMI Alliance companies as of 2017 are: Fair Consulting Tax Corporation, Japan Bank for International Cooperation, Kaneka Corporation, Nakamura Choukou, Nestle Japan, Ltd., Nippon Nozzle, Omron Corporation, Osaka Gas Co. Ltd., Panasonic Corporation, Roland DG., Sekisui House, Ltd., Sumitomo Electric Industries, Ltd., Yanmer.
Doctoral Program
The SESAMI Ph.D. Program starts in April. The SESAMI Master's students with good academic standing can advance to this Ph.D. program after their successful completion in March. Students from outside of Kobe University with a Master's degree in a relevant academic discipline and/or a proven academic track record can enter this Ph.D. program. In the latter case, the Ph.D. candidates are required in their first year to take a set of SESAMI courses designate by the SESAMI Program committee, in order to demonstrate their academic foundation sufficient to conduct Ph.D. research. Students are expected to be dedicated to research in their chosen fields of specialization. From an early stage, and throughout the doctoral study, students are encouraged to be actively involved in research activities with faculty members. They keep close contact to and engage in frequent discussions with a dissertation committee. After the completion of this program, students should be able to engage in research and education and play a leading role in their respective field/specialization at universities and research institutions.
Below you see an overview of the SESAMI curriculum.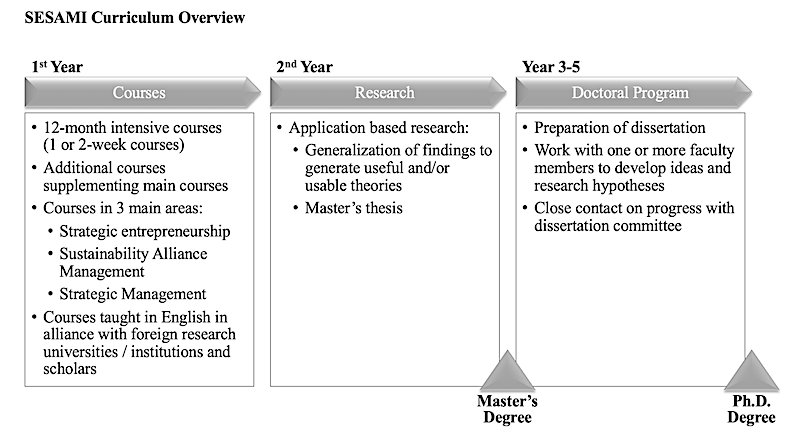 Student Handbook
Guidelines for the SESAMI Program